Written by ironcountylodging on May 10, 2016
Bond Falls Waterfall Tour is a must on your visit to Iron County Michigan.  Absolutely amazing!
Bond Falls Scenic Site is home to one of the most picturesque falls in the Midwest. You'll be in awe of the area's astounding natural beauty as you explore the cascading falls along 600 feet of fully accessible boardwalk with six viewing locations and three viewing platforms. Bond Falls is a popular destination, attracting visitors year-round for hiking, photography, picnicking or simply relaxing while taking in spectacular views.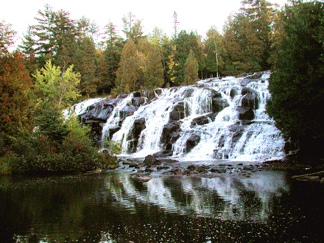 This scenic Bond Falls Waterfall Tour  tumbles over ancient fractured volcanic rock in several cascades for a total drop of about 50 feet in all. The falls pools at the bottom creating a little island with a bridge to the island so you can stand in the middle of the falls for an up close view.
There is a new parking area near the base of the Bond Falls Waterfall Tour and an easy level path to the viewing area where you will see one of the most beautiful waterfalls in the Upper Peninsula. A 600′ boardwalk leads to 6 viewing platforms for a wonderful view of the falls and an ideal location for photographers.
There is also roadside parking at the top of the falls where you will find a little park, picnic tables, grills, and a little store that sells snacks and ice cream.
The old trail with some steep rocky climbs on the east side of the falls is still accessible for hikers and there are other trails through the woods.
The steady flow of water over Bond Falls is controlled by a hydroelectric dam operated by the Upper Peninsula Power Company. The flowage above the dam is a delight for anglers of all ages and a favorite fishing spot for trout.
Bond Falls Waterfall Tour Directions: Tale US-45 north of Watersmeet for 10 miles and turn east on Bond Falls Road in Paulding. Go 3.5 miles and you will arrive at the top of Bond Falls.
From M-28. just east of Bruce Crossing take Calderwood Road south to Bond Falls Road West. Follow the signs to the parking lot and the boardwalk to the viewing platforms.
Visit Bond Falls Waterfall Tour and enjoy one of the most beautiful waterfalls in the Upper Peninsula